Testimonials:

Nature For All To See / Narrated Nature Slide Shows


"Thank you so much for an absolutely terrific program. The turnout exceeded my expectations and your presentation was informative, humorous, and a treat for the eyes. Grapenut's story is entertaining and we will be ordering a copy of the book. We had an audience of 51 and evaluations for 32. Twenty-eight rated the program excellent. The circulation desk said people were raving about your program. We will certainly have you back soon."

Ellen L. Knowlton

Head of Reference and Adult Services of Merrimack Public Library



"The show you presented at Concord Audubon about our local loons and other wildlife really impressed everyone. Your easy going presenting style and the factual information you shared with your funny stories, makes for a winning combination. We hope to see you again for future programs."

Susan Carrigan

Store Manager
Concord Audubon, N.H.



"A fabulous time was had by all. Your show knocked the socks off of everyone, and this is a hard group to entertain as they already know a lot about your subjects. Plus it was great how you made everyone laugh too, humor is a gift and you've got the whole package! You are top notch in your field."

Mike Kuchinos

President
Nubanusit Lake Association



"We want to book John for our June 16, 2009 show. We were very impressed from all the great things we have heard about him. We are willing to pay a premium to get him here."

David Doubleday

Program Coordinator
Audubon Wells Maine



"Your presentation about the loons and your story of 'Grapenut' enthralled the audience. Of all our live events, this summer, yours drew the biggest crowd! We'd love to have you come back next year!"

Rachel Williams

Lecture Series Coordinator
Loon Center, Moultonborough, NH

"Everybody loves John's shows! He is just fabulous at what he does. He's so knowledgeable and great with the residents. We love John too and can't wait for him to return!"

Linda Miller

Activities Director Poplin Way Assited Living Fremont, NH

"Not only did John exhibit his work at our gallery, but he also gave a presentation on his favorite subjects entitled, "Life Cycle of Loons." John's presentation was both humorous and informative, accompanied by a slide show jam-packed full of loon photographs. Everyone in the audience enjoyed the program immensely. In fact, after he spoke his book, Adventures with Grapenut, flew off our shelves! I would definitely recommend this program to a friend."

Eileen Beard

Gallery Program Coordinator
Margret and H.A. Rey Center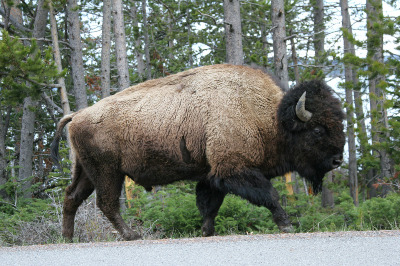 Bison from Yellowstone National Park.